Greetings Bingers! It has been a while since you last heard from me. I'm not even sure if you want to hear from me again (yeah, I'm the cynical bastard who hated on the beloved sport of hockey.) But too damn bad. I'm back in the saddle baby. Got myself a new career in the hiatus, because unless the Binge starts challenging Barstool in terms of readership (we got a little ways to go), clearly we all badly need our day jobs.
Color me inspired J-Bone. That A-10 article just brought me back to the glory and excitement that is the spectacle of college basketball. However, I will shift the focus to a real conference that can actually win National Championships, not just put a bunch of mediocre teams in the tournament.
The powerhouse that is the American Athletic Conference has only been in operation for one year. One single season. They took all the fledgling teams that couldn't find a home anywhere else. Basically, they are America during the 19th and 20th centuries, taking in all the poor people from other countries. And we saw how that worked out... yeah, most powerful nation in the world. That can only mean the American will soon be the most powerful conference in the world. So come on in, Eastern Carolina, Tulane and Tulsa, the water is damn fine. In only one year, the conference provided a home for not only your National Champion UConn Huskies, but also top consistently-ranked programs such as Louisville, Memphis and Cincinnati, as well as serious up-and-coming schools like Southern Methodist and Houston. And there's only one reason why UConn made it out of that hell hole alive: Shabazz "He Still Hungry" Napier. Hit the buffet line young man, you've earned it.
UConn's historic run as a 7 seed put them against perennial contenders like Villanova, Michigan State, Florida, and Kentucky. Please, son. We were better tested back in December by Houston, in January by SMU, battled to double OT with Memphis, took 2 to the shorts from Louisville, and then went out and dominated the rest of the nation when it mattered. Seriously, when has any other start-up conference had a stable of fillies as strong as the monsters currently in the AAC. Never, that's when. Pair that up with the most patriotic name humanly possible for a conference, and you got yourself a contender. Look out Pac 12, ACC, and B1G. The AAC is about to take over.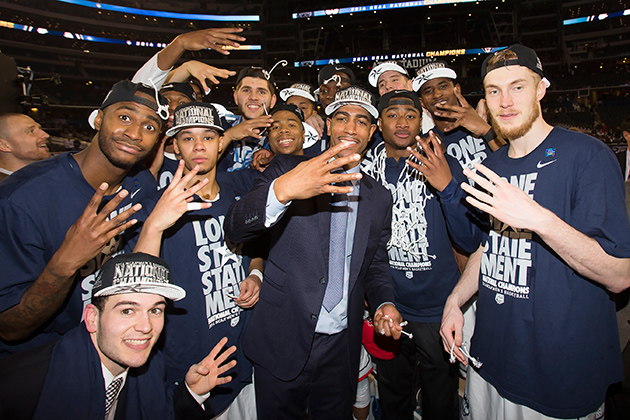 (yeah, that's #4 in 15 years bitches)
But you say, oh wait Moyn, how could situation this possibly get any better?? I'll tell you why. The XL Center in Hartford, CT, home of the Huskies, will be hosting the 2015 AAC Championship. Dear God. Is it November yet?
Long live the AAC! Long live America!
PS: When Connecticut bails out on the AAC in a few years for a better conference, consider this article null and void.
PPS: There will be a follow up preview article about the upcoming season outlooks for each team. Stay tuned.